extras: sailor moon site spotlights
Site for Review: MoonSticks.org | December 12, 2012


MoonSticks.org is quite possibly the best Sailor Moon comic site that has been produced in the fandom. They feature quick and witty conversations between characters that sometimes poke fun at the inconsistencies in the anime, humorous situations and perplexing situations in the storyline that never seem to be mentioned by the characters themselves. The content is light-hearted and without any malicious intent, so every comic is unoffensive and always enjoyable.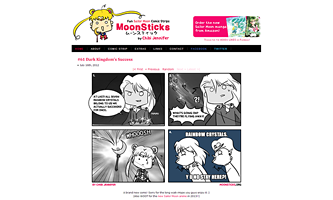 Layout
MoonSticks keeps a very simple comic-style layout, which really does not involve a layout at all but more of a banner format. The title image involves an adorable color doodle by "Chibi Jen" (or "Jen"), along with the title of the site and then to the right of this image there is a small graphic announcing the new Sailor Moon manga released by Kodansha. As this is a comics-themed site, the main page features the most current comic drawn by Jen, and that comic in part becomes the "layout" at that moment. Every time a new comic is made, it replaces the previous image. At the bottom of each page is a footer that features bursts of color from tumblr & twitter icons, buttons to affiliates and other quick links.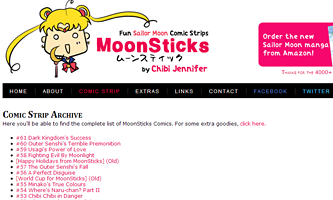 Organization
The organization at MoonSticks is terrific. Jen makes it possible for the visitor to explore her comics in a variety of ways, such as the Back and Forward buttons above each featured comic and a Random option which allows the visitor to be surprised by any MoonSticks comic. But the real organization comes in the links bar. By choosing to go to the Comic Strip page, the visitor can glean through the comics by title and release number or by looking through the offered tags that allows the visitor to search for his or her favorite character.
Content
The most exciting portion to talk about! Each comic is illustrated in four black and white boxes in a 1-2, 3-4 format. As stated earlier, these comics are wittiful and humourous, often making jest of foolish scenes in the anime or faulty plotlines. The subject matter is amusing and always enjoyable. The style of Jen's art is one of the best aspects of these comics. Each character is drawn with an expression of a space-cadet who never knows what is going on despite their serious or determined attitude. It lends for a hilarious combination.
In addition to the comics, MoonSticks offers other special tidbits. You can learn about the artist, Jen, and read through some FAQs as well as contact her if need be. The Extras page offers mini bios about the Sailor Moon characters and also features a scrapbook full of fun MoonSticks doodles; there are gifts for the fans made by Jen, links to Jen's other chibi art website and other fun things that one ought to check out.
Final Thoughts
Layout: 6
Organization: 10
Content: 10


MoonSticks is a delightful place for any Sailor Moon fan to visit. The combination of adorably hilarious chibi characters along with witty and oblivious personalities is just wonderful in every way possible. But what I find makes this place especially special is the nature of the artist, who comes across as gracious, welcoming and friendly to her visitors. These personality traits really lend a warm and delightful feel to the site.




Hopefully our dear Jen will update the site again soon!




-- Rebecca (vomitdirt)



---
isshou-ni.net &copy 2012 rebecca. All rights reserved. BSSM &copy Takeuchi Naoko.
Please do not steal layout and design.
For updates, sneak peaks and tweets, follow at

xx Back | Foward | Refresh xx